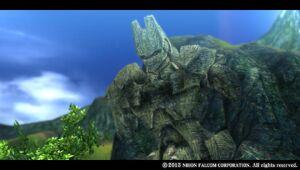 The Gods of Creation
(

創生の巨神たち

Haito no Ankoku Ryū

)
is the first volume of the Black Records in
Trails of Cold Steel 2
.
It can be obtained in the Ancient Quarry, December 15th, at the same spot "after" the boss battle located at the end of the dungeon.
Contents
The text dates back before the Septian Calendar
Page
Original Japanese[1]
Dub Translation
1
初めに二柱の巨神があった。
一つは猛(たけ)き力の担い手にて、
一つは靱(つよ)き力の担い手であった。
共に天(そら)より眷属らと降臨し――
かの暗黒の地にて邂逅を遂げる。
In the beginning, there were two great gods.
One boasted unrivalled courage, the other unparalleled fortitude.
They descended from the heavens with their kin,
and it was upon the dark land below that they first met.
2
その性(さが)ゆえ、双神、相容れず――
天地を揺るがす戦いが切って落とされた。
女神と精霊たちの嘆きも空しく、
大地は震え、天は引き裂かれ――
眷属たちはただ畏れ戦くのみだった。
Calamity. Their opposing nature incompatible,
the two were drawn irresistibly into battle,
and thus began a struggle that shook heaven and earth.
The Goddess and the spirits laments were for naught.
As the land quaked, the skies were torn asunder,
and the gods' kin could only tremble in fear.
3
そして千日に渡る戦いの末――
二柱の巨神は、終わりの日に相討ちとなった。
全ての力を亡くした虚ろなる器は、
それぞれ暗黒の地の外れへと弾き飛ばされた。
大地に痛ましい傷痕と、取り残された眷属と――
After what seemed like an eternity,
their clash came to an end.
But it was and end of mutual defeat.
Their power spent, the empty shells of the
two celestial titans
were found into the furthest reaches of the dark land.
All that remained in their wake were terrible their kin…
4
――"巨イナルチカラ"を残して
…and the Great Power.
See Also
References
Community content is available under
CC-BY-SA
unless otherwise noted.