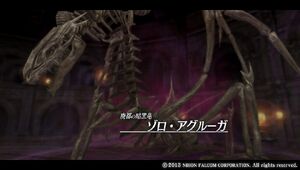 The Dark Dragon (廃都の暗黒竜, Haito no Ankoku Ryū) is the second volume of the Black Records in Trails of Cold Steel 2.
It can be obtained by purchasing from Cornette's General Goods in Celdic, December 1st.[1]
Contents
The text dates back in the Year 371, Septian Calendar.
Page
Original Japanese
Dub Translation
1
帝都ヘイムダルが開かれてより二百年――
"その災厄"は突如、地の底から顕れた。


――≪暗黒竜≫ゾロ=アグルーガ。
黒き瘴気を撒き散らす恐るべき魔竜である。
魔竜の吐き出した瘴気は帝都を覆い尽くし、
ヘイムダルは死の都と化した。
死者は冒涜され、
魔竜に操られたまま徘徊し、
生ある者に襲いかかって眷属を増やしていった。

Two hundred years Heimdallr was first founded,
ruin rose on monstrous wings from the depths of the earth.
Its name was Zoro-Agruga, the Dark Dragon.
A malevolent creature of terrible power,
it spread a miasma throughout the capital that turned
Heimdallr into a city of the dead.

But the horrors did not end there.
The evil dragon desecrated the corpses of the
fallen taking control of their bodies
and using them to attack those who remained alive,
further increasing the legions of the dead.

2
この事態に、
時の皇帝アストリウスⅡ世は民と
臣下を引き連れてヘイムダルから逃れ、
南のセントアークの地に
仮の都を構えたのである。

――百年の時が過ぎ、
七代後の皇帝ヘクトルⅠ世が、
廃都と化したヘイムダルの奪還を決意する。
既にヘイムダル周辺の地は
魔によって呑み込まれ、
暗黒竜の支配下となっていた。


ヘクトルⅠ世は勇猛なる騎士団を
率いて攻略するが、
強大な魔物の群れに阻まれ、
苦戦を強いられてしまう。

The emperor at the time, Astorius II,
was forced to flee the city with
what remains of his household and citizens.
Together they retreated south and established
a new capital in the land of Saint-Arkh.

For a hundred years the bane of Heimdallr
went unchallenged until Hector I,
the seventh emperor of Erebonia,
resolved to recapture the city.
Time has proved an ally to the beast,
however, and the dragon's influence had spread
over the surrounding area like a plague.

Undaunted, Hector I lead an army of brave knights
into the necropolis in an attempt to free it,
But though their hearts were steadfast,
their arrival was met by legions of powerful fiends,
and their efforts seemed doomed to end in failure.

3
そんな中、ヘクトルⅠ世は
"ある存在"と邂逅した。
巨いなる緋色の騎士――≪テスタ=ロッサ≫。
ヘクトルⅠ世を主に迎えた緋色の騎士は、
圧倒的な力と無数の武具をもって
廃都へと突き進み、
全ての元凶たる暗黒竜と対峙する。


そして激闘の末――
緋色の騎士は暗黒竜を見事調伏したのだった。

It was then that Hector I
had a fateful encounter with none other than
the great Vermillion Knight, the Testa-Rossa.


The knight recognized Hector I as its master,
and bolstered by its immense power
and countless weapons, the emperor moved
once again on the city and to the
decisive encounter with the Dark Dragon.

The battle shook the city to its core,
and at the end, the Vermillion Knight was victorious.
The scourge of Heimdallr, the Dark Dragon, was defeated.

4
しかし代償は大きく
――暗黒竜の穢れた血によって
皇帝は命を落とし、
緋色の騎士は呪われた存在となった。

"千の武器を持つ魔人"
――皇帝家の血筋にのみ反応し、
暴走したら最後、
地上の全てを呑み込みかねない"真紅の災厄"。
結局"それ"は、帝都の地下深く、
日の光の差し込まぬ何処かへと
封印されたのだった。

However, the price of victory was steep.
The corrupted blood that flowed from the dragon
claimed Hector's life and defiled even the knight itself,
placing a curse upon it.

The noble Testa-Rossa became the Crimson Calamity:
a demon with a thousand weapons
that only reacts to the blood of the Arnor family;
a destructive force on par with the Dark Dragon that,
should control of it ever be lost, would threaten
the world and all who live in it.

It was sealed deep underground,
never intended to again see the light of the day.

5
そして、崩落した廃都の街並みを
覆い隠すようにして
新たな都の造営が行われ、
民も再び集まるようになった。


現在の≪緋の帝都≫
――ヘイムダルの街並みは
この時からのものだと伝えられている。

Meanwhile, a new city rose from the ashes of the old,
and people once again began to gather in Heimdallr.
And that was when the Vermillion Capital
that endures to this day was first built.
See Also
References
Community content is available under
CC-BY-SA
unless otherwise noted.