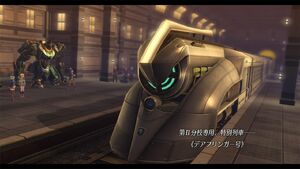 The
Derfflinger
(

デアフリンガー号

Deafuringā Gō

)
is a special armored train personally used by the faculty and students of the
Thors Military Academy - Reeves II Campus
. It serves as
Rean Schwarzer
 and company's secondary headquarters in
Trails of Cold Steel III
.
Background
Supplied by the Railway Military Police, it serves as their main HQ base via transportation around the multiple destinations around the Erebonian Empire for their training curriculum. Heavily armor-plated to elegant aesthetics, while powered with high performance from its six railroad cars, the Derfflinger travels around the continent and setting up various training grounds while undertaking on various drill exercises and missions.
Gameplay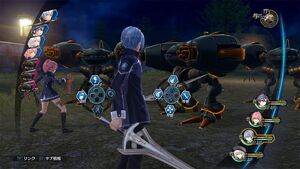 Arriving upon destination, the Derfflinger remains as put serving as the main base for the "Training Grounds". Class VII and Class VIII's training is structured more on the battlefield, while Class IX's acts mainly as reserve members for the other Branch students, while operating the shop facilities for marketing items and orbal factory to upgrade Orbments and weapons, etc. [1]
Most events take place between students' conversations from inside the train cars and outside the training grounds, where new information is revealed and updated. Battles from standard to Panzer Soldat scale will take place as they encounter raids by the Jaegers and Ouroboros.
Notes/Trivia
This is the second on-land transportation to appear since the Orbal Car in Ao no Kiseki.
References
Community content is available under
CC-BY-SA
unless otherwise noted.