East Bose Monster
Kanji
東ボース街道の手配魔獣
Rōmaji
Higashi Bōsu Kaidō no Tehai Majū
Quest Type
Optional
Quest Description
A ferocious monster known as a King Scorpion has been spotted roving the East Bose Highway.

Bracers from this branch are requested to deal with this threat immediately.
Difficulty
Medium
Client
Bose Bracer Guild
Points Earned
4
Reward(s)
1000 Mira
Duration
Acquisition
Entering Bose at the start of Chapter 1.
Expires
After talking with Nial in the Kirsche Bar during the Missing Airliner story quest.
Main Location
East Bose Highway 1st Map
Timeframe
Short
Main Game + Chapter
Traily in the Sky, Chapter 1
East Bose Monster is an optional quest available during Chapter 1 in The Legend of Heroes: Trails in the Sky.
Location
Map: Eastern (3rd) section of East Bose Highway
Directions: Head south from the Nebel Valley entrance then turn east at the fork.
Location: Under some trees in a nook south of the highway.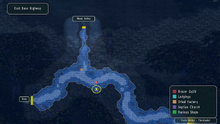 Enemies
Notebook Entry
Community content is available under
CC-BY-SA
unless otherwise noted.