ARTICLES NEED EXPANSION!

Not a stub, just not enough information or lack of related images. You all can help the LoH Wiki Project by adding more stuff to appropriate accuracy. Please remove this template when done.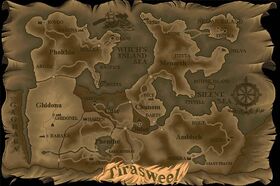 Tirasweel (ティラスイール, Tiirasuiiru) is the continent in The Legend of Heroes II: Prophecy of the Moonlight Witch and lies east of the Gagharv.
Geography
There are eight provinces in Tirasweel: Menarth, Chanom, Ambisch, Udor, Oldos, Phenthem, Ghidona and Pholthia as well as other natural features. Pholthia is the province where Ragpick Village is located and the beginning of Jurio's and Chris' adventure.
Community content is available under
CC-BY-SA
unless otherwise noted.