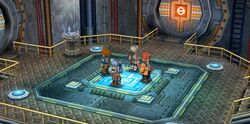 The
Geofront
(

ジオフロント

Jiofuronnto

)
is a vast excavated subterranean space introduced as the first dungeon in
The Legend of Heroes: Zero no Kiseki
.
It was built as part of Crossbell City's infrastructure twenty years ago as the city's underground series of waterworks, sewers and trash disposal systems for future urban expansion. It also has implemented orbal cables and machinery prior to the Orbal Network Project. However, the city officials neglect the dangerous monsters roam its walkways. Hence access to the Geofront was restricted to authorized people, such as Bracers for daily extermination.
Game Story
In the prologue, Geofront was the Special Support Section's first mission to explore its network and exterminate any monsters in sight. After much journeying and coming across an unidentified ladder, the SSS party comes across a lost child crying in the vents. The group comforts the kid whose name is Henry and explains that he and his friend Ryu got lost after entering Geofront through a lid in Central Square's giant bell.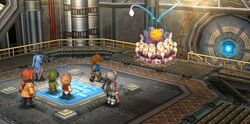 At this decisive point,
Lloyd
has the option of bringing Henry home first or continuing to search for his friend Ryu.
Taking Henry with them, the group searches for Ryu and Lloyd lets Henry into the party in Elie's care. They eventually come across Ryu being surrounded by monsters with the party managing to take them down. Then another monster ambuses the group by dropping down from the ceiling, but were rescued in the nick of time by Crossbell's A-rank Bracer, Arios Maclaine, killing the monster with one slash. With their misssion complete of extermianting the monsters, the group leaves the Geofron.
Community content is available under
CC-BY-SA
unless otherwise noted.