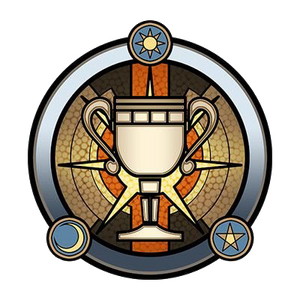 The
Gralsritter
(

星杯騎士団 (グラールリッター)

)
is an organization that serves the
Septian Church
's Congregation for the Sacraments in the
Trails Universe
. Established to uphold the religious followings of
Aidios
, their primary mission is to retrieve ancient
Sept-Terrion
artifacts to maintain order in
Zemuria
.
Dominion
The Dominion is a sub-division of the Gralsritter. Comprised of only twelve elite official knights, with each having their own Stigmata (聖痕, Seikon), an associated squire, and given command of a Merkabah air-cruiser.
They are tasked with the retrieval of artifacts and general managerial duties of the organization.
Trivia
This organization is in parallel with the Knights of the Rounds in the Code Geass series, in terms of only 12 elite members, serving under direct faith, while given special privileges and authority.
Gralsritter is German for Grail-Knight.
Dominion refers to a contract of Lordship and control.
References
Septian Church
Locations

Cathedrals

Grancel • Crossbell • Heimdallr • Bareahard • Roer • Haliask • Ardent

Chapels

Bose • Rolent • Ruan • Zeiss • Trista • Celdic • Legram • Leeves