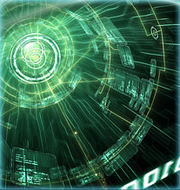 The Orbal Network Project (導力ネットワーク計画, Dōryoku Nettowāku Keikaku) is a revolutionary information network project developed by the Epstein Foundation in the Kiseki Universe. Introduced in Zero no Kiseki, the implementation sequence follows by various terminals connected by orbal cables to allow multiple exchanges and processing of mass information.
It was one of the joint development projects collaborated with the Zeiss Central Factory in Liberl. Currently, the IBC bankrolls the project in return for the government's permission to testing within Crossbell State borders.
Security is being progressively heightened through the repeated hackings and cyber attacks during the testing stages. The status of the development project remains unclear during and after the events in Ao no Kiseki.
References
Community content is available under
CC-BY-SA
unless otherwise noted.