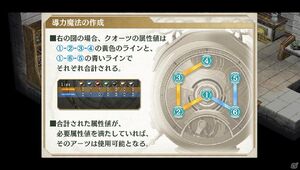 Lines (ライン構成, Raine Kousei) are the orbment's circuit that bridges the Quartz slots in a constellation pattern. Each line totals up the elemental values of all quartz inserted, enabling how many Orbal Arts can be utilized. The longer the connected line, the higher a member's EP will increase when opening a slot. [1]
Explanation
Trails in the Sky trilogy
Each line has a different representative color per Quartz installation and elemental value, while the central slot remains colorless as whatever Quartz inserted counts to the values of all connected lines.
Meaning if one line has 2 fire elements and 1 space elements, only 1 slot can be shared which is the central slot both lines intersect. Hence 1 space element will be in both lines since it is where they intersect, but the fire elemental quartz will be subtracted.
Each slot is indicated by number with number 1 as the central slot.
Zero/Ao duology
Trails of Cold Steel trilogy
Only one Quartz that has the following types of effect can be used per Line:
For example, a Quartz like Seal with a Status Ailment cannot be equipped in the same Line as Mute. Similarly, a Quartz like Speed Breaker (SPD -25%) with a Stat Down effect cannot be equipped in the same Line as Voice Breaker (ATS -25%) This means that the more Lines a character's Combat Orbment has, the more Stat Down and Status Ailment debuffs can be used by them.
The table below shows the number of Slots per Line for each character. So, for example, Rean has a total of 8 Slots split over 3 Lines so he could equip 8 Quartz but no more than 3 of either type listed above.
The italic bold are the Phantasmal Mirror characters in the Reverie Corridor.
Notes/Trivia
As a general thumb rule, characters like Olivier and Kloe with less than 2 lines make the best spellcasters.
Tio Plato, Emma Millstein, Alfin Reize Arnor are the strongest spellcasters in the Trails series, for having only one orbment line.
References
Community content is available under
CC-BY-SA
unless otherwise noted.