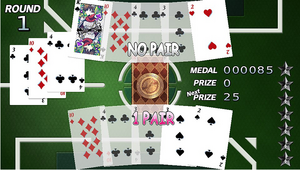 For the general rules and knowledge of the game, see Poker
Poker is a casino mini-game introduced in The Legend of Heroes: Ao no Kiseki, located in Crossbell City, Entertainment District. The game can be unlocked in the Extras Menu, after clearing the game once.
Rules to Play
The horizontal stars on the bottom right indicate how many victories/losses out of 7
Place the number of medals to bet, and your win will accumulate along with the number the NPC betted.
There are only 3 options to win:

Calling (Putting the amount of raise)
Folding (Giving up the hand and all the medals committed)
Raising (Putting even more chips into the pot)
Below is a list of winning hands from lowest to highest.
High Card (Whichever is your highest card)
One Pair (Any pair from either A-A or 2-2)
Two Pair (Two pairs, such as 2-2 AND 3-3)
Three of a kind (Three cards of the same value, like 7-7-7)
Straight (A basic sequence such as 6-5-4-3-2)
Flush (All the same suit, such as J-J-J-J)
Full House (Three Cards AND One pair)
Four of a kind (Four cards of the same value, meaning A-A-A-A)
Straight Flush (Any sequence all the same suit, like 9-8-7-6-5)
Royal Straight Flush (All the same suit, sequence A-K-Q-J-T)
Notes/Trivia
This game will not bring any achievements, only as a means to farm medals to exchange for prizes at the Casino
Community content is available under
CC-BY-SA
unless otherwise noted.