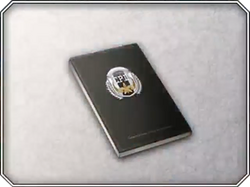 Click the above tabs to see the complete list of available data within the game series.
The Police Handbook (警察手帳, Keisatsu Techoo) (otherwise known as the Investigation Notebook (捜査手帳, Sossaa Techoo)) is a main key item in Zero/Ao duology. It serves as the police's integral item, in which the game automatically tracks your current game record, listing all arts data, quests available and battle log.
Police Officer's Oath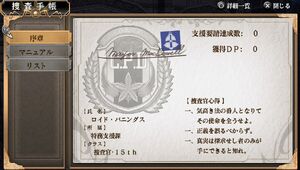 I will serve my mission and community as an honorable guardian of the law. (気高き法の番人となりて、その使命を全うせよ)
Never impair justice (正義を誤るべからず)
Know from those reached, as those who pursue the truth (真実を探求せし者のみが、手にできると知れ)
Notes/Trivia
You automatically receive the Rookie Detective achievement/trophy after being given it.
Community content is available under
CC-BY-SA
unless otherwise noted.