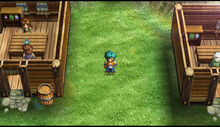 Racos Palma is a small coastal village in The Legend of Heroes: Song of the Ocean. This is the starting point for Forte, Una, and McBain's journey to find the Resonance Stones. The village is known for the quality of its Dyes.
Background
The main source of income for Racos Palma comes from the dyes, which are exported to Cranka. These dyes are made by the red ink from the surrounding shellfish. In order to create different dye colors, the villagers often mix the red ink with other materials such as resin and flower petals.
The village is unable to develop due to its isolation. Boats often get destroyed by the rocky stretch of the coast. The water current is too harsh to build a port. There is no tavern for any visitors. However, despite the harshness of the land, the village easily thrives from the blessings of the sea.
Setting
The northern part of the Racos Palma consist of small grassy cliffs connected by stairs. Houses and shops are built here, but the residents do not use use any of the land for farming. The southern part is a small fishing dock, where the dye factory and buckets of shellfish are found.
Southwest of the town is a large boat wreckage. Forte's father was able to salvage what was left of the boat and made it into their home.
Southeast of the town is an old Lighthouse. It is unused by the local residents. As a result, monsters have made it their home. Nearby is a large well that is used by the villagers to stock up on water every morning.
Allusions/Trivia
"A Peaceful Time" is the soundtrack played while in the village.
Grandma Shela manages the dye factory.
Gallery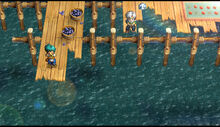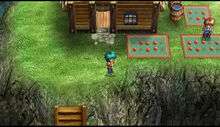 Community content is available under
CC-BY-SA
unless otherwise noted.