Ravennue Monster
Kanji
山道の魔獣捜索
Rōmaji
Yamamichi no Majū Sōsaku
Quest Type
Optional
Quest Description
A ferocious monster has been sighted along the trail behind Ravennue Village. It must be sought out and exterminated ASAP.

For details, please see me in the village.
Difficulty
Medium
Client
Elder Reisen
Points Earned
4
Reward(s)
1500 Mira
Duration
Acquisition
Entering Bose at the start of Chapter 1.
Expires
After talking with Nial in the Kirsche Bar during the Missing Airliner story quest.
Main Location
Ravennue Trail 3rd Map
Timeframe
Main Game + Chapter
Trails in the Sky, Chapter 1
Ravennue Monster is an optional quest available during Chapter 1 in The Legend of Heroes: Trails in the Sky.
Location
Map: Western (2nd) section of Ravennue Trail
Directions: Take a left at the first fork.
Location: At the second fork. (Hidden until encounter activates)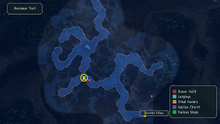 Enemies
Notebook Entry
According to the village elder, the monster has been sighted along the trail to the north of the village.
It seems as though the monster lurks in a specific area along the trail.
Let's hit up the trail to the north of the village, and leave no stone unturned until we find it!
Exterminated monster!
Trivia
Community content is available under
CC-BY-SA
unless otherwise noted.