Recipe Book
is a key item in the
Trails
series. The Notebook catalogues various recipes detailing ingredients that can be combined to prepare food.
Trails of Cold Steel 1
The Recipe Book is a tab in the Note Menu. Recipes that have been discovered through interactions with NPC's are displayed in the list. Undiscovered recipes show as place-holders with "????". For details on how to cook recipes, see Cooking- Trails of Cold Steel 1.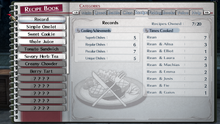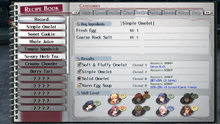 The
Community content is available under
CC-BY-SA
unless otherwise noted.