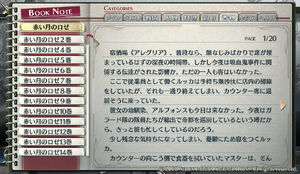 Red Moon Rose
(

赤い月のロゼ

Akai Tsuki no Roze

)
is a novel series available to collect in the
The Legend of Heroes: Trails of Cold Steel
tetralogy. After collecting all 14 volumes, hand them over to
Beryl
where she will reward a
Zemurian Ore
in exchange.
Synopsis
The novel takes place in the imperial capital of Heimdallr. Several decades after the passing of Emperor Driechels, an unknown killing spree continues to spread victimizing young women walking in the dark.[1] The incident would be later referred to as the "Vampire Murders" from the mysterioous fangmarks on the victims. This is a story of how Imperial Soldier, Alphonse put the case to an end.
Volume Locations
Vol #
Title
Availability
Location
1
The Red Moon
Chapter 1
April 18, Noon
Talk to Keynes at Keynes's Bookstore
2
Vampire Hunter
Chapter 1
April 24
Talk to Anita at the Grand Market,
3
Foreboding
Chapter 1
April 25
Talk to Robin at the Farmhouse on West Celdic Highway 2.
4
The Black Vampire
Chapter 2
May 29
Talk to Fumy at Crescent Moon (Inn at Auroch Fort).
Must collect before returning to Bareahard.
5
Farewell
Chapter 2
May 30
Talk to Anette by the north exit of Bareahard.
6
Bloodstained Rose
Chapter 3
June 27
Talk to Manning at the Watertower on Nord Highlands.
7
Parting of the Ways
Chapter 3
June 28
Talk to Hoover (man on top of tank) in Zender Gate after Millium joins the party.
8
The Truth
Chapter 4
July 24
Talk to Robert (with his girlfriend) at Mater Park.
9
A Fool
Chapter 4
July 26
Talk to Tim (group of kids by the southeast corner) at Dreichels Plaza.
10
Into the Darkness
Chapter 5
August 28
Talk to Old Lady Daphne at House #1.
(Must finish Field Study Assignment first)
11
Battle in the Catacomb
Chapter 5
August 30
Talk to Prana at the Arseid Mansion.
12
Elder Vampire
Chapter 6
September 25 (Evening)
Talk to Old Man Oulu right below the escalator in Roer
13
True Ancestor
Chapter 6
September 26
Talk to Fraga (Roer Institute of Technology Receptionist).
Collect after field study assignments, before going to the Underground Passage.
Finale
A New Dawn
Finale
October 23 (Evening)
Talk to Butler Celestin at the Main Building 2F, southeast area
Trivia
This novel is one of the tales themed about "vampires" from Erebonian Folklore.

According to J. Arendt, they are powerful fiends that suck the blood of humans; with no reflections and turn to ash in sunlight.
Above them all are the Shinso, vampires whose powers transcend from their kin, eradicating their previous weaknesses and their origins from nature can allow them to change to their perspective.
References
Community content is available under
CC-BY-SA
unless otherwise noted.