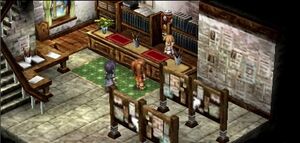 The Rolent Bracer Guild is the City of Rolent's local guild branch in The Legend of Heroes: Trails in the Sky. All main and side missions devoted to anywhere in Rolent are found here. Aina Holden is the guild receptionist in charge of all reports and documents of all tasked quests on the bulletin board. Estelle Bright and Joshua Bright primarily work at the guild until they leave for Bose.
Guild Bracers
Bracer Guild Missions
Trails in the Sky
Trails in the Sky SC
Community content is available under
CC-BY-SA
unless otherwise noted.