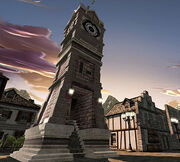 Rolent - Clocktower is the center of the Estelle's hometown and it holds a special place within the hearts of the people of town especially Estelle. The clocktower is tended to by its only inhabitant, Paddington. It is also a good sight for romantic events.
Story
Originally, the clocktower was erected in 1075 of the Septian Calendar in celebration for the partnership between three different forces. Those forces were the Liberl Royal Family, the Septian Church, and the City of Rolent.
Later in 1192 of the Septian Calendar, the Hundred Days War broke out where the Erebonian Empire conquered every region of Rolent except for Grancel. To fear the citizens of Rolent into surrendering to their forces, they bombarded the clocktower. Meanwhile Estelle around the age of 6 was at the top of the clocktower looking at what her dad, Cassius, was fighting. When the clocktower collapsed due to the bombardment, Estelle's mom, Lena, covered and protected Estelle with her body. When the ruins of the clocktower was being checked, Estelle was safe without a scratch but her mother was gone from the world. This made Estelle uneasy whenever she came back to the clocktower.
5 years after the Hundred Days War in 1197 of the Septian Calendar, the clocktower was rebuilt with the cooperation of the citizens of Rolent.
Setting
The clocktower is straight in the the center of the City of Rolent with a couple feet away from the road itself. The clocktower's top balcony can be reached by climbing up the ladder inside the clocktower. The guard, Paddington, regularly comes up and checks on the clock tower to ensure its safety.
NPCs
Paddington - the clocktower's only inhabitant and guard. Came to the clocktower after his home was wrecked due to the Hundred Days War.
Temporarily
Armand - the guy lovestruck with Ellie. After many failed attempts, he hit the ballpark by confessing to her at the top of the clocktower during the sunset in much romance.
Ellie - the girl who rejected all of Armand's confessions until his most romantic one at the clocktower in sunset. At that point, she accepted to going on a date with him.
Community content is available under
CC-BY-SA
unless otherwise noted.