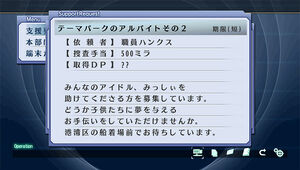 Support Requests (支援要請, Shien yōsei) is the Quest System in the Zero/Ao duology. They are accessed through the Police Terminal in the Special Support Section building, where Lloyd and his team earn and accumulate "DP (Detective Points)" for higher promotion, and earn bonus rewards in turn for completing them following the department's Detective Ranking (捜査官ランク) order.
Zero no Kiseki (+EVO)
Prior to Lloyd's enlistment in the game's prologue, his team starts off at Junior Rank 15th eventually ascending to 1st.
Rank
DP
Reward Item
Details
Junior 1st
捜査官1st
376
Moon Wheel
Junior 2nd
捜査官2nd
324
Powered Suit
Junior 3rd
捜査官3rd
294
Strega-P
Junior 4th
捜査官4th
269
Aquarius
Junior 5th
捜査官5th
224
Grail Locket
Junior 6th
捜査官6th
197
Gladiator Belt
Junior 7th
捜査官7th
150
Ingenuity
Junior 8th
捜査官8th
130
Justice Coin
Junior 9th
捜査官9th
110
Finisher
Junior 10th
捜査官10th
89
Gladiator Headband
Junior 11th
捜査官11th
70
Septium Vein
Junior 12th
捜査官12th
56
Spirit Badge
Junior 13th
捜査官13th
41
Information
Junior 14th
捜査官14th
16
Brave Cuffs
Junior 15th
捜査官15th
--
N/A
Default
Ao no Kiseki (+EVO)
After reaching Junior 15th rank, the ranking order is reversed from Senior 15th to 1st.
Rank
DP
Reward Item
Details
Senior 15th
上級捜査官15th
--
N/A
Default
Senior 14th
上級捜査官14th
16
Medal of Discipllne
Senior 13th
上級捜査官13th
38
Information
Senior 12th
上級捜査官12th
59
Medal of Courage
Senior 11th
上級捜査官11th
77
Wing (Master Quartz)
Senior 10th
上級捜査官10th
99
Super Gladiator Headband
Senior 9th
上級捜査官9th
120
Invigorate
Senior 8th
上級捜査官8th
145
Medal of Shining
Senior 7th
上級捜査官7th
175
Ingenuity
Senior 6th
上級捜査官6th
200
Super Gladiator Belt
Senior 5th
上級捜査官5th
230
Grail Locket
Senior 4th
上級捜査官4th
260
Strega-Ω
Senior 3rd
上級捜査官3rd
291
Powered Suit Z
Senior 2nd
上級捜査官2nd
330
Emblem (Master Quartz)
Senior 1st
上級捜査官1st
380
Medal of Justice
Notes/Trivia
DP can be earned through the correct choice answers in the story.
Whether or not if all quests are completed, it will not affects Lloyd's partner choice at the ending.
BEWARE: The EVO remakes have extra hidden quests, so it's important to go through each game slowly.
Community content is available under
CC-BY-SA
unless otherwise noted.