It is hereby by my decision to rechristen the Legend of Heroes wiki as another affiliate of the Falcom Alliance by the Kiseki Wiki. In other words, all Legend of Heroes upon their respective series will be relocated to their appropriate fandoms. If you have any objections or other suggestions, please contact me.
The Legend of Heroes Series (

英雄伝説シリーズ

Eiyuu Densetsu Series

) is an RPG franchise developed by the Nihon Falcom Corporation. Beginning with the Dragon Slayer saga, released in 1989, the franchise was soon expanded with the Gagharv Trilogy of games set in a separate continuity.

Afterward a new subseries, Trails, gained popularity with the Trails in the Sky trilogy, based in the land of Zemuria. Its sequels continued an integrated storyline involving diverse characters, countries, atmospheres, and experiences, all of which serve as the basis of the modern Legend of Heroes universe.

The Legend of Heroes: Trails of Cold Steel IV is the latest game in the series. It concludes the Trails of Cold Steel saga and the Erebonian Empire arc. It will be released for PlayStation 4 on October 27, 2020 in North America and Europe. Versions for Windows and Nintendo Switch will follow in 2021.
The Legend of Heroes Series
Dragon Slayer
Dragon Slayer
Dragon Slayer II
Gagharv Trilogy
Prophecy of the Moonlight Witch
A Tear of Vermillion
Cagesong of the Ocean
Trails Series
Trails in the Sky
Trails in the Sky SC
Trails in the Sky
the 3rd
Zero no Kiseki
Ao no Kiseki
Cold Steel
Cold Steel II
Cold Steel III
Cold Steel IV
Evolution Remakes
Zero no Kiseki
Evolution
Ao no Kiseki
Evolution
Sora no Kiseki
FC Evolution
Sora no Kiseki
SC Evolution
Sora no Kiseki
The 3rd Evolution
Other Games
Ys VS. Sora no Kiseki: Alternative Saga
Vantage Master Portable
Nayuta no Kiseki
The Legend of Heroes: Akatsuki no Kiseki
To write a new article, just enter the article title in the box below.

<createbox> width=40 break=no buttonlabel=Create new article </createbox>
Not sure where to start?
Find out more about the wiki on the About page.
If you are new to wikis, check out the Manual of Style.
Adding content
Every wiki has two list of articles that need help called "Stubs" and "Wanted Articles". Don't be shy, get in there.
Uploading images is another really easy way to help out - see the Special:Upload page!
You can find a list of useful templates on Category:Templates.
When adding content, please do not copy someone else's work. Write the subject in your own words and if you have to, give credit where it is due.
Request for Translation!!
Not every game title has been localized in North America, so there may be some errors in regards of translating certain names, titles, events, histories, stories, etc. This may include anything from alternate names (i.e. Angie = Pillars, Thirteen Workshops = Thirteen Factories) of Japanese versions to spelling or grammatical errors.
In regards to the alternate names, we have provided 'redirect' links and descriptions in the article to include both English and Japanese versions of that name.
Anybody is free to submit a translator request and fix any possible errors present to maintain as a high quality reference to the Legend of Heroes series. If you have any questions, please contact me.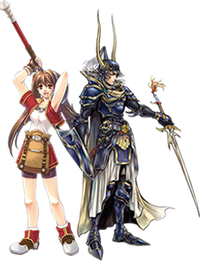 JRPG Games
Want your community included? See how!
People who train under martial arts tutor Yun Ka-fai and master the 'Eight Leaves One Blade' style of combat are known as Divine Blades.
Many aspects of the Trails universe are numbered in or by sevens, such as the multipurpose organization Class VII.
The Legend of Heroes franchise has appeared on multiple video game platforms, from the PC to the handheld Playstation Vita.
Heimdallr is the capital of Erebonian Empire, located in its southwest-central region. Home of the Valflame Palace, pillar to the Imperial royalty, and central foundation of its government, it serves as the heart of the Empire.
With its average population of 800,000, the city is divided into 17 districts for cultural tourism. The city itself is the central station for the extensive Transcontinental Railroad network, bridging across the annexed provinces throughout Erebonia and numerous locations outside its borders.
If you want to affiliate with the Legend of Heroes Wiki, please contact an admin.

Community content is available under
CC-BY-SA
unless otherwise noted.